Can I use Snippet Mind as an external weblog editor?
Yes of course. Snippet Mind implements the External Weblog Editor Interface as used - for example - by NetNewsWire or PulpFiction. Just go to the appropriate preference panel of your famous feed reader and choose "Snippet Mind" as default editor. The example below shows the NetNewsWire "Weblog Editing" preferences panel: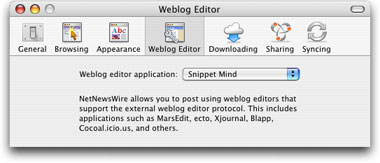 Is it possible to create an own weblog layout?
Is it possible to publish my blog via FTP?
LacusTemporis does currently not nativly support FTP but it is possible to transport your blog via FTP using an external script. For example, you may use this AppleScript script and Panic's Transmit to copy your blog to a FTP server.
See the Snippet Mind online help for details on how to set this up.
How do I start Snippet Mind automatically every time I log in?
To make Snippet Mind load automatically when you log onto your computer, follow these steps:
Click on "System Preferences" in the Dock or choose "System Preferences" from the Apple menu
Click on "Login Items"
If an old version of

Snippet Mind

is already listed in your Login Items listing, click on it, and then click on the Remove button
Click on Add... and then add the

Snippet Mind

application to your Login Items
If you are using macOS 10.4 "Tiger" it's even easier:
Click and hold down the mouse button on

Snippet Mind

icon in the Dock.
Select "Open at Login" from the pop-up menu that appears.
The next time you start up your Mac,
Snippet Mind
is started automatically.
How to move Snippet Mind to a new OS or Mac?
You need to copy the following file and folder:
Prefs: ~/Library/Preferences/com.zykloid.SnippetMind.plist
Data: ~/Library/Application Support/Snippet Mind/
The '~' character denotes your home folder.